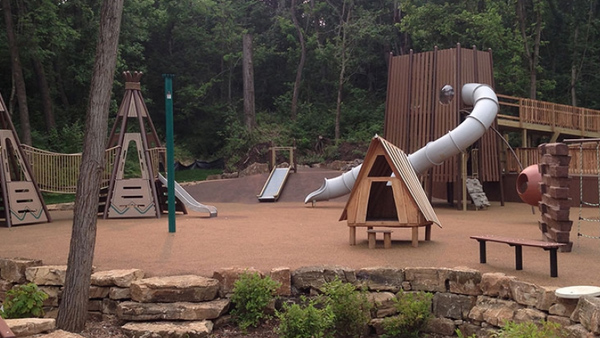 With more than 25 years of experience designing and implementing some of the most creative and complex playground installations in the Kentucky, Indiana and Ohio areas, Bluegrass Recreational Products has become the go-to provider for all things playground!
Working with a portfolio of the top manufacturers in the playground industry, we offer a wide variety of playgrounds, aquatic solutions, sports installations, flooring and shades. This robust suite of options means we can affectively serve customers of all kinds – from schools, churches and camps to parks and homeowners associations.
The core of our business is our commitment to customer service. We have maintained a strong customer base over the last 25 years by building relationships with recreation professionals. Every day we're working on new ways to better serve our customers and help to create the perfect playground. We believe that all kids deserve a safe, fun place to play and are dedicated to providing that for everyone we do business with.
CUSTOMER EXPERIENCE • VISION & INNOVATION • OPTIONS & VARIETY
As a customer-focused company, we form a consultative relationship with you, working to design and implement a project that fits your needs and budget – not ours. Since we design our structures in-house, we can work together one-on-one to design a solution that will WOW you – from traditional structures to the latest and greatest products to hit the market. Working with the top manufacturers means that the possibilities are endless when it comes to your project. This means we can be incredibly flexible in order to fit your specific requirements.
Ready to start your project with us?
The next step is to contact our expert design and implementation team at Bluegrass Rec. Using our planning process, we'll make it easy for you to start your new project and drive it to the finish while staying within your budget!